Easy to use Event App
for Associations
Schedule
Easy access to complete schedule with day, date, time and location. Sessions can be search by tracks.
Exhibitors
Complete list of exhibitors with their booth number along with floor plan & can be search by categories.
Floor Plan
Location Floor Plans with Ballrooms, Meeting Rooms and Exhibition area details.
Speakers
Speaker's Bio including their credentials, experience and present assignments.
Live Alerts
Send live alerts and notifications within minutes to all your event attendees using event App.
My Program
Attendees can build their own programs which can connect to their phone calendars for reminders.

IdeasEvent App comes with many awesome benefits.
Easy to use App interface allows attendees to view and plan their schedule. Either to find an specific session or a booth at the exhibition, with IdeasEvent App this become less hectic and more organised.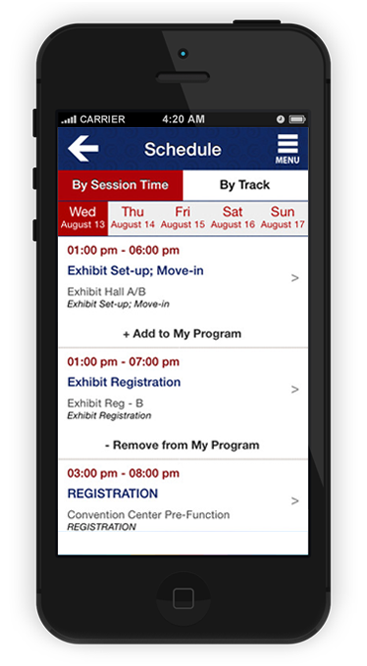 Auto Sync feature
Keep yourself updated
Any changes at the event including schedule, sessions, speakers, exhibitors and floor plans are contineously updating from the event planner and attendees can access the most updated information all the time.

Keep you going
Live Alerts & Notifications
Liver alerts and notifications generate sense of urgency and reminder to attendees when they are at the events. It also help event planner to send important messages and reminders live within few minutes.

Real time feedback
Analyze your Performance
Real time feedback about sessions, event or just some information in general can be obtain through feedback system. Information collected from attendees canbe use for improvements for future events.
"Our partnership with IdeasEvent helped us to deliver the technology and new media tools with ease to our customers."

Meetings Management International, USA
Pricing Plans
Choose our 'GOLD' plan to get your event organised or go for 'DIAMOND' Plan to generate the revenue. Even we can build a custom solution for you with 'FREEDOM' Plan.
Standard

Fully Functional
Free Cloud Storage
Auto Sync
Revenue Ad
Live Alerts
Content Management
Multi Events
Premium
All the Standard Features
Free Cloud Storage
Unlimited Uploads
Auto Sync
Revenue Ads
Live Alerts
Content Management
Multi Events
Branded

Branded App in the App store
All the Premium Features
Free Cloud Storage
Unlimited Uploads
Auto Sync
Revenue Ad
Live Alerts
Content Management
Multi Events
Pricing FAQ
Is there a place to download help?
Yes. We have the complete help tutorial available online with email support. We are also developing videos on how to use the app. We also work on custom promotional videos if you would like to promote your event apps to your target audience.
What is the best way to contact support?
You can reach us by email, skype or phone (North American customers only) during business hours of 8am-6pm EST.
How big is your support team?
We have dedicated team of professionals with knowledge and expereince in technical, design, strategy and business development. We believe that we are your event partner and we work as part of your team to make sure you get all the required knowledge and support.
How much time it takes to have an event app ready?
2-4 weeks from the time you place an order. App requires content collection, design implementation, code compilation, testing and release to App Stores.
Get in Touch with us!
Our event executive will be in touch with you shortly.